CORPORATE party Magic entertainment
What Kind Of Corporate Party Are You Having?
Shawn Eric is your A-Z Party Magician specializing in…
Anniversary Parties
Appreciation and Awards Events
Birthday Parties
Casino Nights
Cocktail Receptions
Dinner Parties
Gala Events
Golf Tournaments
Holiday Parties
Office Luncheons
Private Parties
Sports Events
Shawn Eric has special presentations for different types of parties.  
He can make you look like a hero by making someone else's day memorable.
What Type Of Performance Do You Have In Mind For Your Corporate Party?
Shawn Eric specializes in strolling close-up & table magic shows, as well as his parlor & living room shows. He is also very entertaining on stage as a solo, stand-up comedy magician and an emcee in larger variety type shows.
Shawn Eric mingles with your guests and works his magic creating astonishment and laughter.
Good for large groups during cocktails or after dinner. Depending on the setting, Shawn can work 50 – 75 people per hour. Perfect for corporate magic party entertainment.
Stationary Table
Close-Up Magic Entertainment
Shawn Eric brings an attractive table and performs continuous 5 -10 minute magic shows. Chairs can be added for longer 15 – 20 minute shows. This is a great option for large groups when the guests are moving through the event, such as silent auctions, western cookouts, etc.
Parlor and Living Room Shows
Shawn Eric specializes in this type of setting with a 30 – 60 minute Magic Fun Show featuring the full range of his magic and comedy with a stunning finale.
Great for small groups, less than 50 people, at homes and in intimate settings.
Shawn Eric can do his living room show as a stand-alone performance. However, clients say the show is best when combined with strolling magic before to meet and mingle with the guests.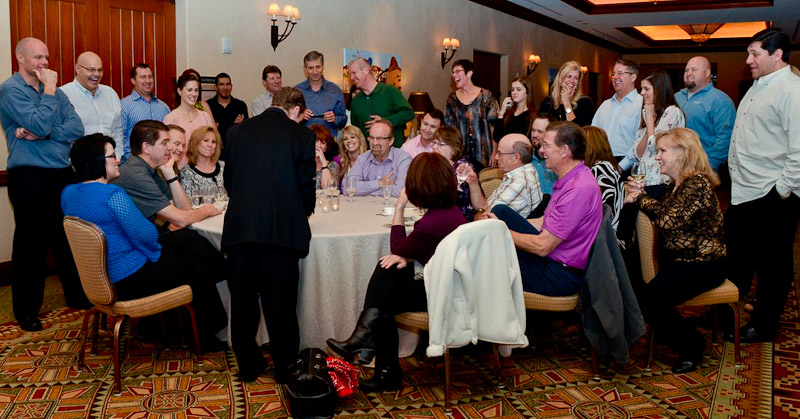 Stand-Up Stage Show
Shawn Eric takes the stage and captivates your audience with his Magic Fun Show. Depending on your needs, the show can run from 20 to 45 minutes.
The show is ideal as after dinner entertainment in conjunction with awards, keynotes, etc. for up to 100 guests.
The Magic Fun Show includes strolling close-up magic before dinner.