Holiday – Christmas Party Entertainment Magic
Are you planning a holiday party? Read what Shawn Eric can do for you.
People say magic and music are the most popular forms of live entertainment at Christmas & Holiday parties. Those who have seen magician Shawn Eric perform, say he's a great example of why this is true.
Not only is Shawn Eric a world-class magician, but he also has a special gift for delighting and connecting people. Just read what one client had to say:
It was so much fun watching Shawn "work the room." The way he engaged people was magic in itself. Our guests simply loved him and could not stop talking about his magic for weeks after the party. We will have him back next year!
What Can Shawn Eric Do at Your Holiday or Christmas Party?
Shawn Eric offers a variety of entertainment solutions that can be customized to best fit your holiday party.
Close Up Strolling Holiday Magic: Clients often choose Shawn Eric's strolling magic. This is the type of magic where he moves among your guests providing intimate and engaging magic to small groups at a time. He can perform for people who are either standing or seated. It is quite versatile, and guests love how the magic happens right before their eyes. It is especially wonderful to hear a group of your friends burst into laughter and watch others get engaged and excited.
The Living Room Show: Provided you have the time and space, Shawn Eric's Living Room or stage show is sure to WOW your guests. This interactive show features incredible magic and comedy. The 30-50 minute show can be custom tailored to fit your schedule, making it amazing easy to include at your party. The Living Room show is great for small groups, less than 50 people, at homes and in intimate settings.
Shawn Eric can do his living room show as a stand-alone performance. However, clients say the show is best when combined with strolling magic before the big show.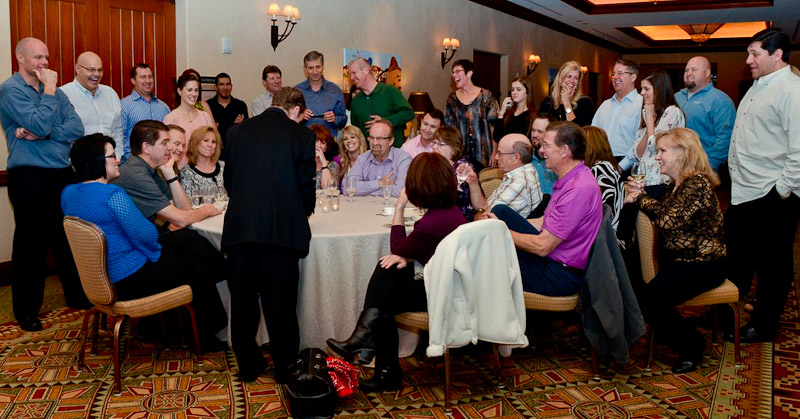 More From Our Clients
Our guests always ask if you'll be at our holiday party. Thanks for helping make our gatherings so successful. As you know, we've made you an official family member now!
What's  Next?
Shawn Eric is ready to talk to you about your holiday/Christmas party today. He will answer your questions, get you a quote and help you figure out how to integrate his magical entertainment for maximum benefit to both you and your guests.